Unlock the Power of GETMP3 PRO: Your Ultimate Free YouTube to MP3 Converter
It's always a good and mesmerizing experience when you listen to a sound on YouTube and it suddenly becomes your favorite. Now you want to add that sound to your collection by downloading it in MP3 file format but you often are unable to do this because of useless and unsatisfactory tools.
These tools promise your desired functionality but deliver very little of what they promise. It becomes frustrating when you try multiple times but get nothing.
Today, we are here with the solution to all these problems and headaches and the name of that solution is GETMP3 Pro.
GET MP3 Pro is a free and best in its class YouTube to MP3 converter. In this blog post, we will uncover all the features of this tool so that you can benefit from these features once you need them.
If you are a unique sound enthusiast, a podcast lover, or a language learner and you depend on audio from YouTube videos, then GETMP3 is the best solution to all your requirements.
So let's get started and uncover the unique features of this wonderful tool.
How to Use GETMP3 PRO: A Step-by-step Guide
Here is a simple 4-step guide for you for using GETMP3 Pro.
1. Copying the YouTube URL
Once you like the video and want to convert it into audio form then copy the URL of that video.
2. Paste the URL on GETMP3 Pro
Now, go to the GETMP3 PRO website and paste the URL in a designated search box which is in the center of the page.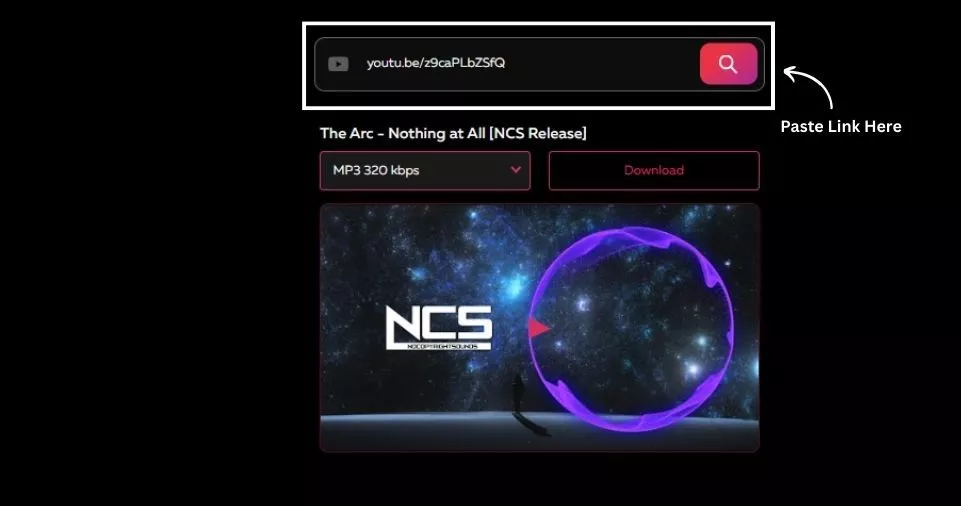 3. Select the Quality and Format
Once you paste the URL in the search box, select your preferred conversion format and quality from the drop-down list under the URL. This tool offers you conversion options spanning from 64 kbps to 320 kbps in mp3 or m4a formats.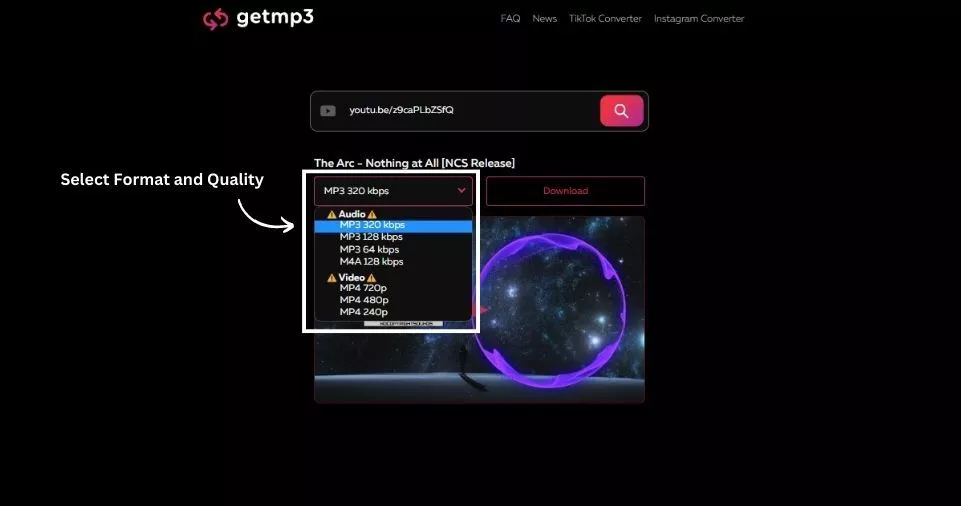 4. Downloading your MP3 File
After selecting the file quality and format, click the Download button. Your YouTube to MP3 conversion has started.
After the completion of the conversion, you will be redirected to a new page. Click the download button on that page. Your favorite audio will be downloaded and saved at the default location on your device.
And voila! You can now listen to your favorite tune offline at any time.
Why Choose GETMP3 PRO: Unraveling its Unique Features
If you are looking for a YouTube to MP3 converter and you are hesitant about selecting GETMP3 Pro then we are here to help you. Here are the top features of this tool that can make you select it for video to mp3 conversion.
Fast Conversion Time
One of the main features of this tool is that it is swift and robust. You can convert your favorite YouTube video to MP3 format within a few seconds without any glitches.
High-quality Audio Output
This tool provides you with superior quality and customizable conversion options. You can select your preferred audio format and quality while converting the file. As it makes sure high-quality MP3 output, you can enjoy your favorite sounds in the best possible way. You can also edit the name and metadata of the downloaded file.
User-friendly Interface
Simplicity is the ultimate sophistication, and GET MP3 Pro embodies this truth. It's straightforward and user-oriented. No technical know-how is required—simply copy, paste, click, and you're good to go.
Versatile Functionality
This tool is adaptable and versatile. It caters to different audio needs – from podcasts to language lessons. Its unique and versatile features make it one of the best solutions for your YouTube to MP3 conversion needs.
This tool is compatible with all types of operating systems and web browsers. It is accessible across all devices. You can even use this tool to convert video from other social media platforms like Facebook, Twitter, TikTok, etc.
Safe and Secure Conversion
This tool is complimentary and secure. Access this service without any fees, personal data requests, or threats of viruses, malware, or annoying pop-up ads. Enjoy a smooth, worry-free conversion process every time.
Troubleshooting Common GETMP3 PRO Problems
Even the best tools can sometimes pose challenges. Don't worry, we've got solutions.
Slow Conversion Rate
Is your conversion taking longer than usual? Check your internet connectivity. Sometimes, slow internet can affect the conversion speed.
Downloading Errors
Experiencing errors while downloading? Try refreshing the page or restarting the conversion process.
Quality Compromises
If you notice a dip in audio quality, check the source video. Poor-quality YouTube videos can affect the output audio quality.
The main purpose of this tool is to make the conversion as seamless as possible. You can overcome your problems using these tips and maximize the potential of this tool.
Testimonials: Hear from Satisfied GETMP3 PRO Users
As we know that we can evaluate a tool by evaluating the experience of its existing users. So, here we have some reviews of GETMP3 users.
A Tune Lover's Tale
Meet Jake, a passionate tune listener and enthusiast. He always likes discovering new artists on YouTube. GETMP3 PRO has been his trusted companion. "As an avid tune lover, Jake expresses his feelings about using GETMP3 as "GETMP3 PRO has opened a new world for me, I'm now able to enjoy high-quality MP3s from YouTube videos, and the fast conversion time is impressive."
A Language Learner's Journey
Next, we have Mia, a language learner. She uses YouTube lessons to polish her skills. With GETMP3 PRO, she now has audio lessons on her device. Mia shares his experience with Geet MP3 "I love the simplicity of GETMP3 PRO, it's easy to use and perfect for converting language lessons into MP3 files."
A Podcaster's Story
Now meet Alex, a podcaster who relies heavily on YouTube for content research. GETMP3 PRO has made his life easier. Here are Alex's thoughts about using the tool "GETMP3 PRO is a game-changer it's safe, secure, and the audio quality is impeccable. It's a must-have for all podcasters."
These testimonies make it clear that GETMP3 PRO caters to different needs. Whether you're a music lover, a language learner, or a podcaster, GETMP3 PRO is there to enhance your YouTube to MP3 experience. Give it a try and experience the difference yourself.
Conclusion
Getmp3 Pro is a free YouTube to mp3 converter that allows users to rapidly convert first-rate audio from their selected videos. Its user-friendly nature makes it the perfect tool for music enthusiasts yearning to revel in their favorite tracks offline.
In the present digital age, YouTube has evolved beyond a mere entertainment hub, emerging as a treasure trove of auditory content. The challenge, however, lies in harnessing this rich audio in a handy, transportable format. At this crossroads, our tool is the beacon, bridging the gap between convenience and quality.
wikiHow rate Getmp3 Pro as a top-tier free YouTube to mp3 converter online. It's bulk of unique offerings – quick conversion speed, superior output quality, intuitive user interface, and safe, secure transformations – makes it the go-to tool for anyone seeking to morph YouTube videos into MP3s.
Remember our delighted users Jake, Mia, and Alex? Their testimonials attest to the positive impact of GET MP3 PRO on their digital lives. Why should you be left behind? Embark on your journey of converting beloved YouTube videos into mp3 files with Getmp3 Pro today!
FAQs
How fast is GETMP3 PRO's conversion time?
GETMP3 allows you to convert YouTube videos into MP3 files at an impressively fast rate. The completion time depends on the length and size of the video.
Is the audio output from GETMP3 PRO of good quality?
Yes, one of the critical features of GETMP3 PRO is that it maintains high-quality audio output, ensuring the best listening experience for the user.
Is GETMP3 PRO easy to use?
Absolutely! GETMP3 PRO has a user-friendly interface that is simple to navigate. Even if you're new to such tools, you should have no trouble using GETMP3 PRO.
Is GETMP3 PRO safe and secure to use?
Yes, this app delivers efficient virus and zero-day threat defense, in a lightweight, straightforward interface. GETMP3 PRO prioritizes the user's safety and security, so you can use it without any concerns about potential risks or threats.
Are there any common problems I might face while using GETMP3 PRO?
While GETMP3 PRO is designed for smooth operation, you might occasionally face issues such as slow conversion rates, downloading errors, or quality compromises. However, most of these problems can be easily fixed by following these steps:
1. Check your internet connectivity for a slow conversion rate.
2. Refresh the page if you are facing downloading error issue.
3. Check your selected quality while downloading and converting the video if you are facing audio quality issues.
What is the best YouTube to MP3 site?
There are multiple tools that can help you convert YouTube to MP3 videos. Some of the top-tier examples of YouTube to MP3 converters are:
1. GETMP3
2. Y2mate
3. YTMP3
Are YouTube to MP3 sites safe?
Yes, using a YouTube to MP3 converter is generally safe if you ensure that the tool you use is trusted and reliable.
What is the safe YouTube MP3 downloader 2023?
GETMP3 is a safe and reliable tool for downloading YouTube videos as MP3. It allows high-quality downloads while minimizing ads. Always respect copyright laws and potential online threats.
What is the best free way to convert YouTube videos to MP3?
GETMP3 Pro is a free and reliable tool for converting YouTube videos to MP3 format. Paste the video URL, select the format, and click "Download". Always respect copyright laws and be cautious of potential online threats.