Sportskeeda.com: Andrew Tate caught making outright false claims on controversial Candace Owens interview
Andrew Tate recently participated in an interview with Candace Owens, a conservative American political commentator. During their conversation, they covered various topics, including his ongoing court battle in Romania. Following the interview, compilations of clips from this recent discussion and his previous interviews have been shared with fans, raising concerns about Tate's credibility.
In one notable moment, Candace Owens addresses allegations against Andrew Tate regarding his alleged involvement in coercing women into pornography. She plays a clip from a past interview where Tate can be heard suggesting that women should not be informed about his webcam business initially, but instead approached under the pretext of a romantic interest. This clip has raised questions about his actions and statements in this regard.
Carefully dodging the question citing his court battle, 'Cobra' said:
"People are trying to chop it up and say that it says I am using the loverboy method to somehow convince women to do things they didn't wanna do. This is obviously not the case…I'm a rich guy and I have cars…sometimes when I say I have a webcam business they wanna work for me."
Nonetheless, the interview fails to reveal Andrew Tate discussing his modus operandi, which involves utilizing his 'first girl' to promote his image to other women and entice them into his webcam business. In a prior interview, 'Cobra' disclosed:
"My first girl was so good, it was easy. My first girl is sitting there going , 'We're going to Thailand, you should come with us'…martinis, martinis, martinis, bang, thr**some. Slamming both…Put both girls on camera the first day. So the new girl is just sitting there and getting drunk. Give them a bottle of vodka…Guys will send loads of money to get the girls drunk."
More lies from Andrew Tate
Andrew Tate is currently under investigation in Romania for alleged involvement in forming a criminal organization. The organization is accused of coercing women into pornography by enticing them with promises of romantic relationships. When Candace Owens inquired about Andrew Tate's connection to the webcam business, 'Cobra' responded: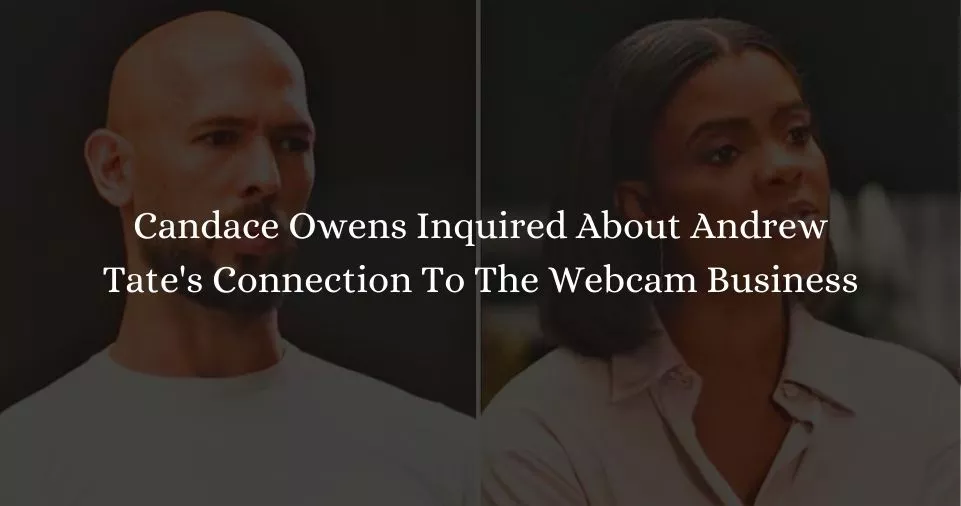 "I stopped having any involvement with it, I think eight to nine years ago."
From 2020, a tweet from Tate's war room came to light, which stated:
"Last month was great for cam and only fans. 8 girls generated 551,000 usd. I'll give them a couple thousand each and keep the 500. This month is looking to be even better Notice it's DOCTOR Emory A Tate. I have a PHD."
In more clips reveal Andrew Tate explaining his strategy of deceiving wealthy men by posing as one of his models over text, ultimately extracting substantial amounts of money from them.
FAQs:
Q: Why is Andrew Tate famous?
A: Andrew Tate gained fame through his career as a professional kickboxer, as well as his presence on social media platforms like TikTok. However, his fame is also associated with his controversial and misogynistic views, which have attracted a large following .
Q: How did Andrew Tate get all his money?
A: Andrew Tate's wealth primarily comes from his various ventures, including his online course in "modern wealth creation" and his online academy called Hustler's University [1]. Additionally, his net worth is estimated to be around $30 million.
Q: What happened to Andrew Tate?
A: Recently, Andrew Tate has been charged with serious crimes, including rape, human trafficking, and involvement in organized crime in Romania. However, it is important to note that these are allegations, and Tate denies them.
Q: What is one fact about Andrew Tate?
A: One fact about Andrew Tate is that he gained notoriety after being evicted from the reality show Big Brother UK due to a video showing him hitting a woman with a belt.
Q: What did the Tate brothers do?
A: The information available does not mention any specific actions or involvement of the Tate brothers. Therefore, it is unclear what the Tate brothers have done.
Q: How much money has Andrew Tate made?
A: Andrew Tate's net worth is estimated to be around $30 million.
Q: Did Andrew Tate become a trillionaire?
A: No, there is no information suggesting that Andrew Tate has become a trillionaire. His net worth is estimated to be around $30 million.
Q: How is the boy who was thrown from the Tate?
A: The information provided does not mention any incident involving a boy being thrown from the Tate. Therefore, it is unclear what this question refers to.
Q: Have Tate brothers been charged?
A: The available information does not mention any charges against the Tate brothers. The charges mentioned are specifically related to Andrew Tate.