Purchase Order Financing: What It Is & How It Works
The method by which a creditor pays your suppliers for the items so that they may be delivered to your consumers is known as purchase order financing. This kind of financing might assist in preventing delays in completing consumer orders if your company has the finances to pay suppliers upfront. You should be aware that in order to qualify for PO financing, you must sell finished items to either a business (B2B) or the government (B2G).
The procedure is straightforward: after reviewing the order and approving it, the financing firm pays your supplier to deliver the products. The finance firm will receive payment from your client when the items are delivered, deduct its charge, and then give the leftover funds to your company.
How Purchase Order Financing Works
Due to the involvement of several stakeholders, PO funding can be challenging to comprehend. The process of reviewing your application, disbursing funds, and collecting payment also involves several phases.
Parties Involved in PO Financing
PO financing involves at least four separate parties.
Your business: Your company, as the borrower, must submit the PO financing application.
A supplier: The supplier is the firm in charge of shipping or providing the products required to complete an order a client has placed with your organization. Before they can complete your customer's purchase, suppliers often need to be paid.
A customer: For PO financing to be available, your customer must be a corporation or governmental body. Your client will place an order with your company for certain products, which will then be delivered by your supplier.
A PO financing company: This organization is in charge of issuing money to your supplier.
The PO Financing Process
PO financing is a process that can be broken down into eight steps.
Step 1: Your business receives a purchase order
When a B2B or B2G customer places an order with your company, the first phase of PO financing begins. Individual customer orders are not eligible for PO financing.
Step 2: You obtain a cost estimate from your supplier
Getting an estimate from your supplier for the cost of fulfilling the order is the next step after receiving the order. Cost projections must account for all necessary production, material, transportation, and delivery costs.
Step 3: You apply for PO financing
You must locate a PO financing firm and submit a loan application after receiving the estimate of how much it will cost to complete your customer's order. The PO financing provider will examine the order's specifics and assess the creditworthiness of both your business and the client.
You may also like reading: Startup Financing: How It Works & How to Get It 2023
Step 4: PO financing company issues funds to your supplier
The PO financing business will subsequently send the supplier money if the request for financing is accepted. The PO financing firm itself, as well as the specifics and intricacy of the transaction, all influence how quickly funds are released. The average period from the moment you submit a loan application is between 2 and 21+ days.
Step 5: Supplier delivers the goods to your customer
Your supplier will start completing the order once it has been paid. Finishing the manufacturing or assembly process is an example of this. Although there are some circumstances in which you might choose to have it delivered to your firm instead, suppliers normally transport the final items straight to your client. The order is deemed finished after it has been delivered.
Step 6: Your customer is invoiced for the order
The business you select for PO financing could take care of billing the client on your behalf. If not, you will have to carry out this action on your own. The terms of repayment, including the total amount owing and the deadline for complete payment, should be clearly stated on invoices.
One thing to keep in mind is that your firm will have to pay more for PO financing the longer it takes your client to pay.
Step 7: Your customer pays the PO financing company
Your client's final action is to pay the PO financing firm in full in accordance with the instructions on the invoice.
Step 8: You receive payment from the PO financing company
The PO financing firm will provide the remaining funds to your business after deducting its costs and receiving payment from your customer.
Who Should Consider Purchase Order Financing?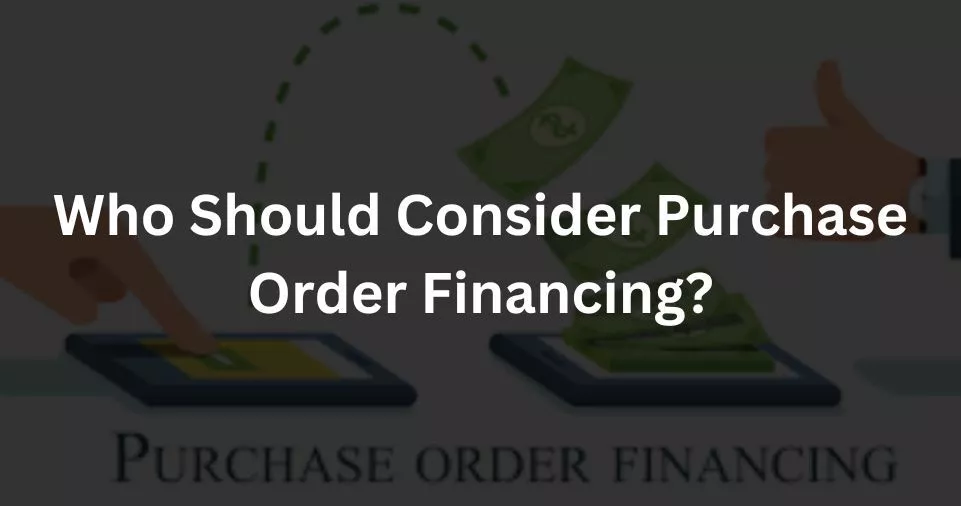 Here are a few circumstances in which PO financing could be a good fit for you:
You have customer orders to fulfill but do not have enough cash to pay supplier: PO financing may be an excellent choice if you are unable to cover the expenses related to processing customer orders. This can happen with seasonal items, if there is a spike in demand, or if you get a larger-than-usual order in any other circumstance. You may be able to avoid having to deny or cancel any such orders so that you may keep the extra money by using PO financing.
You want to use funds for another area of your business: Funds that would otherwise be utilized to invest in other parts of your firm might be depleted by suppliers that demand upfront payment to start or finish the order. If this is the case, PO financing may be a method for you to keep fulfilling orders from customers while also providing money for other parts of your business.
You have cash flow concerns and do not want to use your own funds: If you anticipate using your business cash for other reasons in the near future, PO financing may be a suitable alternative since it allows you to protect your own funds. Saving money to pay for unforeseen costs and an impending huge repair bill are two instances of this.
You were turned down for other loans: Compared to a standard loan, PO financing often has less qualification requirements. Because the creditworthiness of your consumer is more heavily emphasized when you have terrible credit, you have a higher chance of being authorized. Startups and well-established businesses that have had credit or financial difficulties can also get PO funding.
Rates, Terms & Qualification Requirements for PO Financing
Rates & Terms
Most PO financing companies impose a cost for each 30-day term that ranges from 1% to 4%. As a result, the cost of this sort of financing will increase the longer your consumer takes to pay the invoice.
Additionally, funding times often range from three to 21 days or more, with lengthier times for foreign transactions.
Qualification Requirements
You should be aware of various subtleties in qualification criteria, just like there are in rates and terms. For instance, based on the supplier you select, your order must have a sufficient profit margin to qualify for financing. You should have a high probability of getting approved if your profit margin is at least 20%.
You should also be aware that to qualify, an order must be for finished items only, and that the customer must be a company or a government agency. PO financing companies will also assess the creditworthiness of your company and your customers. Different factors, such as a credit score or a history of late payments to other creditors, might be used to assess this.
How To Get PO Financing
Finding the ideal source, applying, and completing the required paperwork are the first stages in obtaining PO financing.
Step 1: Choose a lender and submit an application
Several lenders, including banks, credit unions, brokers, and online lenders, provide PO financing. If you're unsure of where to begin, start with our suggestions for the top PO financing companies.
Here are some questions you might wish to ask a lender:
How well-versed in PO finance is the staff?
Which industries does it most frequently work with?
What further financing options are available?
What are the standard rates, costs, and conditions provided?
Does the lender have any latitude with regard to the standards for qualification?
How soon will the lender be able to examine, authorize, and provide funding?
Are your consumers in direct contact with the lender?
The lender's payment terms and procedures for suppliers.
Has the lender routinely received favourable ratings and reviews from clients?
Step 2: Provide required documents to the lender
In general, purchase order financing doesn't need a lot of paperwork. Items that are often sought include the following:
Order for goods from your client
Cost projection from your provider
Financial records such cash flow statements, tax filings, and balance sheets
Step 3: Review and accept loan terms
You must read and agree to the loan terms if PO funding is granted to you. To be sure it's what you previously agreed to, carefully read this final paperwork. Important things to evaluate should at the very least include:
Costs and rates
monetary amount
Terms of payment Order information (including the kind of order and the customer's name)
requirements for personal guarantees or collateral as a condition of funding
Pros of Purchase Order Financing
Has less stringent eligibility standards than typical loans
Enables your company to accept and complete larger orders
Doesn't demand monthly payments, which might aid in the flow of funds in a firm
Cons of Purchase Order Financing
Is only acceptable for finished, physical things
Can cost more than other forms of funding
May have a poor financing pace, especially for consumers from other countries
Alternatives To Purchase Order Financing
However, if PO financing isn't quite suitable for you or if you're searching for more cheap choices, you might think about the following alternatives.
Invoice factoring: In that it allows you an advance on payments from clients you've billed, this is comparable to PO financing. The main distinction is that invoice financing is applied after an invoice has been delivered to a client. Before that occurs, PO funding is employed. Check out our comparison of factoring vs. PO financing to learn more about the differences.
Small business line of credit: With this revolving line of credit, you can take out cash as needed up to the credit limit. Interest rates can be less expensive than PO financing and are typically lower than 10%. For additional choices, visit our guide to the top small business line of credit companies.
Term business loans: These loans include the option of issuing a single sum of money that may be applied to a number of different companies needs, such as working capital or equipment finance. You can see the working capital loans we highly suggest.
Conclusion
PO financing might be a smart option if you want to protect your working capital or don't have enough money to pay a supplier to complete a client order. By having the finance firm pay your supplier on your behalf, you may prevent losing money by not turning down client orders. However, PO financing might not be the most economical choice, so before making any judgments, you should have a look at some alternative financing possibilities.
FAQs
How does purchase order financing work?
A finance business pays your suppliers on your behalf when you use PO financing. By enabling the supplier to complete your customer's purchase, you enable your company to maintain working capital without postponing or rejecting client orders. The finance firm will take its share of the costs out of your customer's payment and then deliver the leftover amount to your company.
How much does purchase order factoring cost?
Every 30 days funded normally costs 1% to 4% in PO financing. It will cost more the longer your consumer waits to pay.
Is it difficult to qualify for purchase order financing?
Obtaining PO finance may be simpler than obtaining regular loans. This is due to the fact that it places more emphasis on the creditworthiness of your client than it does on your own company.