I love nothing more than spending time with my dogs and taking them on adventures. One of my favorite ways to spend my weekends is to pack Amber and Indy into the vehicle and go to a pleasant location like the beach, a city promenade, or a café.
But as some of you may remember, Indy has a terrible case of motion sickness. For him to get into the car and travel to this exciting location, he has to experience sickness the entire time, whining, drooling, and occasionally vomiting.
It is awful to watch him in that position.  I devoted a lot of time to studying online and asking other dog owners for advice whose pets had similar problems.  I've tried and tested a lot of therapies on Indy, including, but not limited to, driving exclusively on an empty stomach, wearing tight singlets to help him relax, spraying pheromones about the car and on a bandana around his neck, and opening the car windows.  Most did appear to marginally lessen the symptoms.  But nothing seemed to make him feel at ease, much less enjoy the ride.
Also Read: VEGGIES FOR DOGS: 15 DOG-FRIENDLY VEGETABLES AND HOW TO PREPARE THEM FOR YOUR PUP
That is until I came across a dog car seat that was made particularly to allow your dog to see out the window of the vehicle. The I Can See Dog Car Seat has been in business since 2010 and is entirely Australian-made in Queensland and on the Gold Coast.
Three sizes of car seats are offered: Single (50 cm), Medium (60 cm), and Double (70 cm).  They easily fasten with the car seat belt, and a supplied strap connects to your dog's harness. They don't need to be specially fitted.  Do not, for obvious safety reasons, tie the strap to your dog's collar; only a harness should be used with it.  Along with the chance to upgrade to a variety of imported specialty fabrics and breed themes, there is also a wide selection of regular fabrics and patterns to pick from. Oh, and you may also opt to have the name of your dog embroidered on the seat.  That's awesome!
I wondered; would this car seat be the answer for Indy
You may pick the ideal size for your dog using the website's excellent F&Q page. However, it was difficult for me to decide between the medium and double. Amber and Indy needed enough room to spread out comfortably while yet being able to sit in one together. After all, Miss Amber appreciates her alone. I got in touch with Helen, the owner, who was gracious in letting me take a drive to her house and examine the seats in person.
I settled on the medium, which fits them like a glove! Perfect!
You might find it difficult to believe, but Indy was like a completely different dog on the first trip in its brand-new car seat. He now enjoys going on rides, sitting by the window, and observing everyone and everything. While we travel, Amber curls up and naps until we reach our destination.
I would wholeheartedly advise any dog owners wishing to travel with their dogs in safety and comfort to invest in an I-can-see vehicle dog seat, not only for dogs attempting to overcome car sickness.
This article is not sponsored.  Pressplay Pets' opinions and endorsement of the product are all their own.  All of our readers are urged to conduct their research so that THEY may make educated decisions.
5 Best Dog Car Seats
Bochao Dog Car Seat
Marslabo Dog Booster Seat
BurgeonNest Dog Car Seat
K&H Pet Products Bucket Booster
Dotouud Small Dog Booster Seat
1. Bochao Dog Car Seat
The Bochao Dog Car Seat is measured at 22.44 by 21.25 by 12.99 inches (length by width by height), and it can handle most small- to medium-sized dogs as well as some large ones. This pet bed is composed of premium Oxford fabric, which is wear- and bite-resistant according to the manufacturer. A safety tether with an adjustable clasp is included with the Bochao to keep your dog happy and secure.
This dog car seat's inside padding is constructed of polypropylene (PP) cotton, which is both lightweight and strong. It should be mentioned that this dog car seat is machine washable even if the hooks and buckles cannot be removed.
2. Marslabo Dog Booster Seat
The internal collapsible metal structure of the Marslabo Dog Booster Seat enables the hammock-style dog seat to be draped from the headrest and supported by the seat below. An adjustable strap attaches around the headrest to secure the seat and raise dogs higher in the vehicle so they can look out the window. An adjustable leash clips to the inside of the seat and serves as a kind of car harness.
This dog car seat's adjustable leash fastens to a dog's harness to reduce motion sickness and anxiety during vehicle journeys in dogs. It is simple to hand or machine wash thanks to a detachable plush lining and double-sided cushions. The seat may be positioned over any rear seat, including your passenger seat because it hangs from a headrest.
3. BurgeonNest Dog Car Seat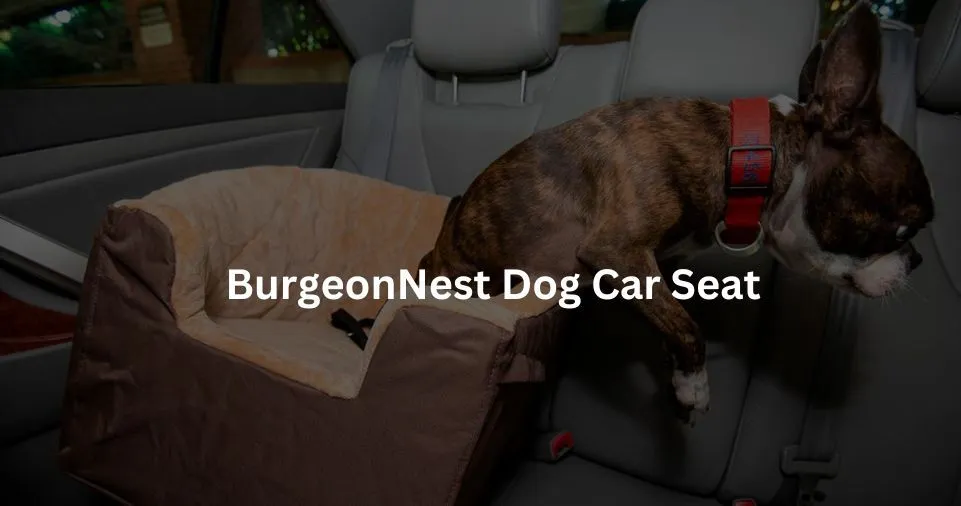 The BurgeonNest Dog Car Seat is made of quilted Oxford fabric for a comfortable ride and is reinforced with double stitching so it won't rip in the washing machine. This seat's filling is stored in individual bags, and built-in sliding zippers simplify cleaning. A vigorous dog seat belt will hold your dog in place and deter them from escaping, and the anti-slip rubber bottom puts their safety first.
This dog car seat may be placed in either the front or the backseat of most vehicles thanks to an adjustable buckle design. This dog safety seat has two side pockets that may be used to conveniently store items like Scooby Snacks and puppy chow. Because the cushions have two sides, one is warm and fluffy while the other is cold and breathable, your dog will be comfortable on long drives regardless of the weather.
4. K&H Pet Products Bucket Booster
The unassuming-looking K&H Pet Products Bucket Booster uses your car's seat belt to secretly secure the seat while remaining concealed beneath the detachable booster cushion. Two movable security tethers fasten to your dog's collar or a safety harness. Your dog is kept secure and at ease while moving about thanks to the firm foam surrounding the edge of the bed.
The fleece liner is machine washable, which improves your dog's comfort. Additionally, it enables dog owners to maintain the dog booster seat in the car smelling good and to quickly clean up any messes made by the dog. Any size vehicle's front or back seat will sit snugly against the back's curved form.
5. Dotouud Small Dog Booster Seat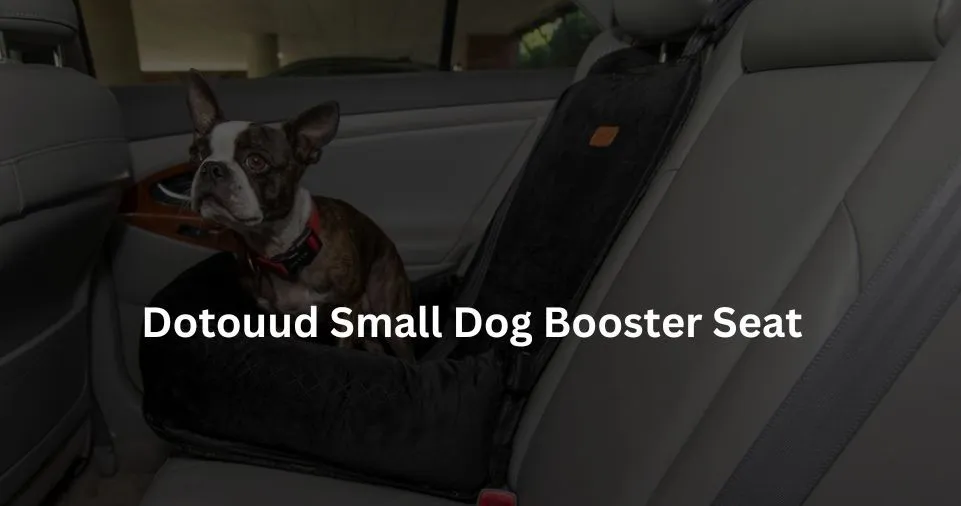 The Dotouud Small Dog Booster Seat, which is intended to fit on the center console of the car between armrests, is unquestionably the most unusual dog car seat we examined. This allows your pet to take in the landscape and be near its owners, which can make your dog less apprehensive. Pure cotton of the highest strength, used to make this seat, is waterproof, hypoallergenic, and devoid of hazardous chemicals.
This means that your dog should be content knowing that it has a cozy place to relax during lengthy vehicle drives, and you should be satisfied knowing that paws that may otherwise touch your car's upholstery are kept inside the car seat. The car seat may be removed and disassembled for simple cleaning thanks to a zipper design.
Conclusion:
We've discussed the significance of utilizing a dog car seat for your furry friend's safety and well-being during vehicle journeys. We've spoken about the advantages of dog car seats, such as giving your dog a safe and comfortable place, decreasing distractions, and lowering the chance of harm in case of accidents. A safe and delightful trip may be had by you and your canine companion if you buy a high-quality dog car seat and use it according to the instructions.
Keep in mind that your dog's safety should never be jeopardized, and utilizing a dog car seat is an easy method to give them protection. Make sure to put your pet's safety first whether you're on a quick trip to the veterinarian or a lengthy road trip adventure.
FAQs:
Q: How do I choose the right dog car seat?
A: Bear in mind your dog's size and weight, the kind of car you drive, and the seat's level of comfort and security when selecting a dog car seat. Consider characteristics such as a strong design, quick installation, and adjustable straps.
Q: Can I use a regular seat belt to secure my dog?
A conventional seat belt may seem like a practical solution, but securing your dog in the car is not advised using one. Dog car seats have been specially created to ensure that dogs are as secure and comfortable as possible when riding in cars. In contrast to traditional seat belts, they come with extra features including cushioning and harnesses.
Q: How do I train my dog to use a car seat?
Introduce your dog to the car seat gradually, letting them become comfortable with it calmly and positively. To get them interested in the seat, start by putting snacks and toys inside of it. Reward your dog for resting its head or body on the seat, then progressively lengthen its stay. During the training process, patience and constructive criticism are essential.
Q: Can I use a dog car seat for other pets?
Dog car seats are made exclusively for dogs, therefore they might not work for other pets. For cats and smaller animals, there are several choices available, such as harnesses and travel carriers. Based on your pet's unique demands, it is crucial to select the right safety equipment.
Q: Are dog car seats legally required?
Depending on where you live, different laws may apply to dog car seats. To guarantee compliance, it is important to verify with your local authorities or examine the pertinent rules. Using a dog car seat is highly advised for the safety of your dog and other passengers in the car, regardless of any applicable laws.